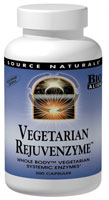 Source Naturals Vegetarian Rejuvenzyme is a Digestive Enzymes supplement that comes in 60 servings per container. See detailed information below about vitamins and minerals, ingredients, directions and compare it to other popular digestive health suppleme
Compare with other Digestive Health
Compare
| | | |
| --- | --- | --- |
| Source Naturals Vegetarian Rejuvenzyme | VS | All other Digestive Health |
General

Description
Whole Body Vegetarian Systemic Enzymes Vegetarian Rejuvenzyme Is A Bio-aligned Formula With A Comprehensive Bend Of Proteolytic Systemic Enzymes Bundled Into A Convenient Vegetarian Capsule. This Formula Supports Efficient Circulation, And May Reduce Minor Occasional Pain Associated With Everyday Activity. It May Provide A Balanced Approach To Metabolic Inflammation, Joint And Respiratory Health, Immune Support, And Antioxidant Defense. The Ingredients Are Suitable For Vegetarians And Those With Allergies To Animal-based Enzymes.


Category
Digestive Enzymes


Directions
2 Capsules, Twice Daily On An Empty Stomach With At Least 8 Ounces Of Water.


Count

120 Capsules

(71.3 Capsules higher than average)

vs


Weight

0.23

(1.28 lower than average)

vs


Serving Size

2 Capsules

(1.64 Capsules lower than average)

vs


Servings

60

(34.3 higher than average)

vs


Other Ingredients
Vegetable Cellulose, Rice Bran, Purified Water, And Medium Chain Triglycerides.


Warnings
Do Not Take If You Are Pregnant, Breastfeeding, May Become Pregnant, Or If You Suffer From Any Gastrointestinal Disorders Such As Ulcers. Consult Your Health Care Professional Before Taking This Product If You Are Taking Any Drug That Affects Blood Coagulation Such As Prescription Vitamin K, Heparin, Warfarin (coumadin), Or Aspirin. Also Consult Your Physician Before Taking This Product In Conjunction With Nattokinase Or Serrapeptase; Because Their Activities Are Both Present In This Formula. Taking Additional Supplements May Pose A Health Risk.


Supplement facts

Rutin

150 mg

(128.29 mg higher than average)

vs


Protease AM (Aspergillus melleus)
vs


Papain (Carica papaya)
14000000 FCCPU


Protease (Aspergillus oryzae)

6400 HUT

(6394 HUT higher than average)

vs


Lipase (Rizopus oryzae)

8000 FIP

(7992 FIP higher than average)

vs


Ionic Trace Mineral Blend
vs


Amla Fruit
vs


Serrazimes (Aspergillus oryzae)

40000 SU

(39960 SU higher than average)

vs


Nattozimes (Aspergillus oryzae)
vs


Neutral Bacterial Protease (Bacillus subtillis)
vs


Amylase (as aspergillus oryzae)

2400 DU

(2398 DU higher than average)

vs