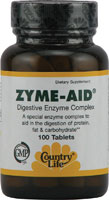 Country Life Zyme-Aid is a Digestive Enzymes supplement that comes in 50 servings per container. See detailed information below about vitamins and minerals, ingredients, directions and compare it to other popular digestive health supplements.
Compare with other Digestive Health
Compare
| | | |
| --- | --- | --- |
| Country Life Zyme-Aid | VS | All other Digestive Health |
General

Description
Digestive Enzyme Complex Supports The Digestion Of Protein, Fat, And Carbohydrates.


Category
Digestive Enzymes


Directions
Adults Take Two (2) Tablets After A Meal.


Count

100 Tablets

(51.3 Tablets higher than average)

vs


Weight

0.42

lb

(1.09 lb lower than average)

vs


Serving Size

2 Tablets

(1.64 Tablets lower than average)

vs


Servings

50

(24.3 higher than average)

vs


Other Ingredients
Lactose, Cellulose, Stearic Acid, Silica, Cellulose & Glycerin Coating, Magnesium Stearate, Vanilla, Vegetable Glaze. Contains Soy And Milk.


Warnings
If You Are Pregnant Or Nursing, Taking Medication Or Planning A Surgery, Consult Your Doctor Before Using This Product. If Any Adverse Reactions Occur, Stop Taking The Product And Consult Your Doctor.


Supplement facts

Ox Bile Extract

60 mg

(24.6 mg higher than average)

vs


Calcium (as calcium carbonate)

125 mg

(88.33 mg higher than average)

vs


Papain (2,000 USP units/mg)

100 mg

(12.5 mg higher than average)

vs


Cellulase Enzyme
vs


Pepsin

100 mg

(60 mg higher than average)

vs


Protease Enzyme
vs


Alpha-Amylase Enzyme
vs


Betaine (from 200 mg of betaine HCl)
vs


Pancreatin Extract 3X
vs


Bromelain (150 GDU/g)
vs


Lipase Enzyme (1,000 LU/g)
vs