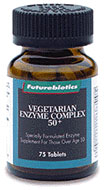 Futurebiotics Vegetarian Enzyme Complex 50 Plus is a Digestive Enzymes supplement that comes in 75 servings per container. See detailed information below about vitamins and minerals, ingredients, directions and compare it to other popular digestive health
Compare with other Digestive Health
Compare
| | | |
| --- | --- | --- |
| Futurebiotics Vegetarian Enzyme Complex 50 Plus | VS | All other Digestive Health |
General

Description
Vegetarian Enzyme Complex 50 + Multi Enzyme And Probiotic Formula Specially Formulated For Those Over Age 50 Now With Super-stable Probiotics Vegetarian Vegetarian Enzyme Complex 50+ Is A Multi Enzyme And Probiotic Formula Designed Especially For Those Over The Age Of 50 When Digestive Juices And Gastrointestinal Function Can Decrease Leading To A Reduction In Digestion And Nutrient Absorption, It Includes Cellulase To Help Breakdown Fibrous Cell Walls In Plant Foods And Maltase To Help Break Down Starches. Enzyme Activity Is Determined And Reported According To Standard Food Chemical Codex Procedures Accepted By Fda. In Addition, It Includes Lactospore A Naturally Microencapsulated Preparation Of Lactobacillus Sporogenes That Is Proven To Deliver Viable Lactobacilli To The Intestine.


Category
Digestive Enzymes


Directions
As A Dietary Supplement For Adults, Take 1 Tablet With Each Meal Or As Directed By A Healthcare Professional.


Count
75 Vegetarian Tablets


Weight

0.35

lb

(1.16 lb lower than average)

vs


Serving Size

1 Tablet

(2.64 Tablet lower than average)

vs


Servings

75

(49.3 higher than average)

vs


Other Ingredients
Dicalcium Phosphate, Cellulose, Stearic Acid, Croscarmellose Sodium, Magnesium Stearate, Silica, Aqueous Tablet Coating (purified Water, Hydroxypropyl Methylcellulose, Polyethylene Glycol).


Warnings
Do Not Use If You Are Pregnant Or Nursing.


Supplement facts

Fennel [seed]

50 mg

(35 mg higher than average)

vs


Gentian (Root)

100 mg

(98.7 mg higher than average)

vs


Protease (in Hemoglobin Unit Tyrosine base)

8000 HUT

(7992 HUT higher than average)

vs


Amylaw (in Dextrinizing Units)

4000 DU

(3996 DU higher than average)

vs


Lactase (in Alphalactosidase Units)
vs


Cellulase (in Cellulase Units)
vs


Lipase (in Lipase Units)
vs


Maltase (in Diastatic Power)
vs


Invertase (in Invertase Units)

0.2 INVU

(equals average)

vs


Papain (in Papain Units)
vs


Bromelain (in Gelatin Digesting Units)
vs


Lactospore Lactobacillus sprogenes (supplying 13.5 million probiotic cells)
vs