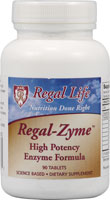 Regal Life Regal-Zyme is a Digestive Enzymes supplement that comes in 45 servings per container. See detailed information below about vitamins and minerals, ingredients, directions and compare it to other popular digestive health supplements.
Compare with other Digestive Health
Compare
| | | |
| --- | --- | --- |
| Regal Life Regal-Zyme | VS | All other Digestive Health |
General

Description
High Potency Enzyme Formula Science Based


Category
Digestive Enzymes


Directions
Suggested Use: As A Dietary Supplement, Take Two To Six Tablets Three Times Daily, Or As Directed By A Physician.


Count

90 Tablets

(41.3 Tablets higher than average)

vs


Weight

0.33

(1.18 lower than average)

vs


Serving Size

2 Tablets

(1.64 Tablets lower than average)

vs


Servings

45

(19.3 higher than average)

vs


Other Ingredients
Magnesium Stearate, Cellulose, Dicalcium Phosphate, Stearic Acid.


Supplement facts

Zinc (Zn)
8 mg


Pancreatin 4X USP

50000 Units

(49991.7 Units higher than average)

vs


Bromelain 5,000,000 FCC

100000 Units

(99900 Units higher than average)

vs


Trypsin USP

18750 Units

(18732 Units higher than average)

vs


Papain 1,450,000 USP
Units


Chymotrypsin USP

125 Units

(equals average)

vs


Amylase FCC

375 Units

(equals average)

vs


Lipase FCC

75 Units

(equals average)

vs


Catalase

100 Units

(equals average)

vs