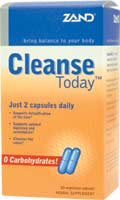 Zand Cleanse Today is a Colon Cleansing supplement that comes in 30 servings per container. See detailed information below about vitamins and minerals, ingredients, directions and compare it to other popular digestive health supplements.
Compare with other Digestive Health
Compare
| | | |
| --- | --- | --- |
| Zand Cleanse Today | VS | All other Digestive Health |
General

Description
Supports Detoxification Of The Liver, Optimal Digestion And Assimilation Cleanse Today Is A Complete And Easy-to-use Liver And Colon Cleanse With Digestive Enzymes That When Used Daily, Naturally Helps Remove Toxins From You Body. Cleanse Today Is Formulated To Supplement Any Cleansing Program, To Support The Healthy Function Of The Intestines And Liver, Rejuvenating The Body And Maintaining Optimal Health. Formulated With Natural Ingredients To Cleanse And Detoxify The Liver. Contains Digestive Enzymes To Prevent Dietary Buildup In The Intestines. Does Not Contain Any Bulking Ingredients Or Laxatives. No Fasting Necessary Cleanses The Colon Zero Carbohydrates Zand Cleanse Today Is A Gentle And Complete Daily Detoxification Program Designed To Support The Body S Natural Cleansing Process. Contains All The Essentials For An Optimal Cleanse - Milk Thistle, Dietary Fiber, Plant Based Enzymes And Whole Food Concentrates.


Category
Colon Cleansing


Directions
Adults, For Maintenance, Take 2 Capsules Daily. For A Deep Cleanse Take 2 Capsules Up To 3 Times Daily With Meals. Do Not Exceed 6 Capsules In A 24 Hour Period.


Count
60 Vegetarian Capsules


Weight

0.17

lb

(1.34 lb lower than average)

vs


Serving Size

2 Capsules

(1.64 Capsules lower than average)

vs


Servings

30

(4.3 higher than average)

vs


Other Ingredients
Magnesium Stearate, Magnesium Silicate, Silicon Dioxide, And Rice Flour.


Warnings
Do Not Give To Children Under The Age Of 12 Years. Not To Be Used During Pregnancy Or While Breastfeeding. If You Are Taking Prescriptions Drugs Contact Your Physician Before Taking. Not For Long Term Use.


Supplement facts

Calories

4

(164.34 lower than average)

vs


Dandelion Root

10 mg

(17.5 mg lower than average)

vs


Ginger Root

10 mg

(40 mg lower than average)

vs


Sage Leaf
vs


Oat Seed Bran
vs


Flax Seed Meal
vs


Vegetable Cellulose Fiber
vs


Broccoli Heads Concentrated Extract (11:1)
vs


Kale Leaves Concentrated Extract (13:1)
vs


Magnesium (As Magnesium Oxide)
50 mg


Nettle Leaves Concentrated Extract (5:1)
vs


Cabbage Leaf
vs


Alpha-Lipoic Acid

30 mg

(70 mg lower than average)

vs


Maitake Mushroom Concentrated Extract (10:1)
vs


Fiber

1 g

(0.5 g lower than average)

vs


Barberry Bark
vs


L-Glutathione

20 mg

(13.13 mg higher than average)

vs


Bupleurum Root
vs


:pmocera Flowers
vs


Milk Thistle Seed (standardized extract)
vs


Plant Based Enzymes (amylase [2,400 DU], cellulase [100 CU], invertase [140 SUMNER], lactase [100 ALU], lipase [40 FIP], and malt diastase [50 DP])
vs


Rosemary Plant
vs