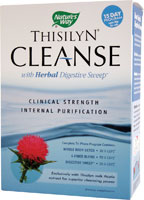 Nature's Way Thisilyn Cleanse with Herbal Digestive Sweep is a Colon Cleansing supplement that comes in no servings per container. See detailed information below about vitamins and minerals, ingredients, directions and compare it to other popular digestiv
Compare with other Digestive Health
Compare
| | | |
| --- | --- | --- |
| Nature's Way Thisilyn Cleanse with Herbal Digestive Sweep | VS | All other Digestive Health |
General

Description
Clinical Strength Internal Purification Complete Tri-phase Program Contains:whole Body Detox - 30 Vcaps6-fiber Blend - 90 Vcapsdigestive Sweep - 30 Vcaps Complete Whole Body Cleanse. Easy 15-day Program. Purifies, Rejuvenates And Energizes. Will Not Interrupt Your Daily Routine. Optimal Dose Of Thisilyn Milk Thistle Extract For Maximum Cleansing Power. Easy Dispersion Fiber For Comfortable Capture Of Toxins Throughout The Bowel. Phase I: Whole Body Detoxa Perfectly Balanced Formula Featuring Thisilyn, Artichoke, Turmeric, Dandelion And Tow Proprietary Herbal Blends To Support The Cleansing Of Multiple Body Systems, Including: The Bloodstream, Gallbladder, Liver, Lymphatic System, Skin And Urinary Track. Also Promotes The Transport Of Toxins And Impurities To The Intestine For Capture By Phase Iiphase Ii: 6 Fiber Blendsix Natural Dietary Fibers (including Lignamax High-lignan Flax Powder) Are Combined In An Easily Dispersed Formula To Capture Toxins And Other Impurities Throughout The Intestine. Fos (fructooligosaccharides) Provides A Powerful Prebiotic Boost To Support The Maintenance Of Healthy Intestinal Microflora.phase Iii: Herbal Digestive Sweepa Unique Digestive Cleanse With Cascara Sagrada, Triphala And Thisilyn To Encourage The Cleansing Of Impurities And Toxins Trough The Bowel, Including Those Capture By Fibers In Phase Ii. Soothing Herbals Are Included To Comfort This Critical Cleansing Phase.


Category
Colon Cleansing


Directions
Phase I: Take 1 Capsule In The Morning And 1 Capsule In The Evening For 15 Days. Phase Ii: Take 3 Capsules In The Morning And 3 Capsules In The Evening For 15 Days. Take With 8 Oz. Of Water.phase Iii: Take 2-3 Capsules At Bedtime With 8 Oz. Of Water. Do Not Exceed Recommended Dose Or Use For More Than 10 Days.


Count

1 Kit

(47.7 Kit lower than average)

vs


Weight

0.54

lb

(0.97 lb lower than average)

vs


Other Ingredients
Phase I


Warnings
Caution: Do Not Exceed Recommended Dose, Or Take Longer Than The Recommended Period As Frequent Or Prolonged Use May Result In Dependence. Do Not Use When Nausea Or Vomiting Are Present Unless Directed By A Doctor. Consult A Doctor If You Notice A Sudden Change In Bowel Habits That Persist Over 2 Weeks. Rectal Bleeding Or Failure To Move Bowels After Use May Indicate A Serious Condition. Discontinue Use And Consult A Doctor. Do Not Use This Product If You Are Pregnant, Nursing A Baby, Or Under The Age Of 12. Take This Product With A Least A Full Glass (8 Oz) Of Water. Taking Without Enough Water May Cause Chocking. Do Not Take This Product If You Have Difficulty Swallowing Or Breathing After Taking This Product, Seek Immediate Medical Attention.notice: This Product Contains Cascara Sagrada. Read And Follow Directions Carefully. Do Not Use If You Have Or Develops Diarrhea, Loose Stools Or Abdominal Pain Because Cascara Sagrada May Worsen These Conditions And Be Harmful To Your Health. Consult A Physician If You Have Frequent Constipation Or Diarrhea, Are Taking Medication Or Have A Medical Condition.


Supplement facts

Total Carbohydrates

1 g

(5.67 g lower than average)

vs


Calories

5

(163.34 lower than average)

vs


Dietary Fiber

1 g

(0.9 g lower than average)

vs


Sodium (Na)

5 mg

(128.77 mg lower than average)

vs


Dandelion Root

40 mg

(12.5 mg higher than average)

vs


Thisilyn Milk Thistle dried extract (seed) standardized to 80% silymarin

190 mg

(32.5 mg higher than average)

vs


Soothing Proprietary Blend
vs


Triphala Proprietary Extract Blend (fruit) standardized to 40% tannins
vs


Urinary Tract Proprietary Blend
vs


Lymph, Blood & Skin Proprietary Blend
vs


Artichoke dried extract (leaf) standardized to 5% cynarin
vs


Turmeric dried extract (root) standardized to 95% curcuminoids
vs


6-Fiber Proprietary Blend
vs


Cascara Sagrada (bark) providing 3.6% cascarosides
vs